2008
State Runner-up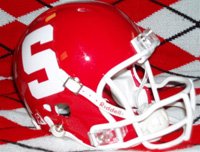 BR

2008 Saccoccia

OPP

34

Indian Creek

0

42

Akron Buchtel

12

45

East Liverpool

14

43

Buffalo St. Joseph Collegiate Ny.

14

42

7

14

@

Columbus Bishop Watterson

0

41

Wheeling Park Wva.

7

39

20

47

Wheeling Central Catholic Wva.

22

34

Tonawanda Cardinal O'Hara Ny.

14

61

Coshocton

29

28

N

Youngstown Cardinal Mooney

16

35

17

30

6

6

N

Kettering Archbishop Alter

21

541

14-1-0

199
Regional Quarter-f

inal, Big Red, 10-0, vs. Coshocton Redskins, 9-1, Friday, October 31st, 2008, at Death Valley.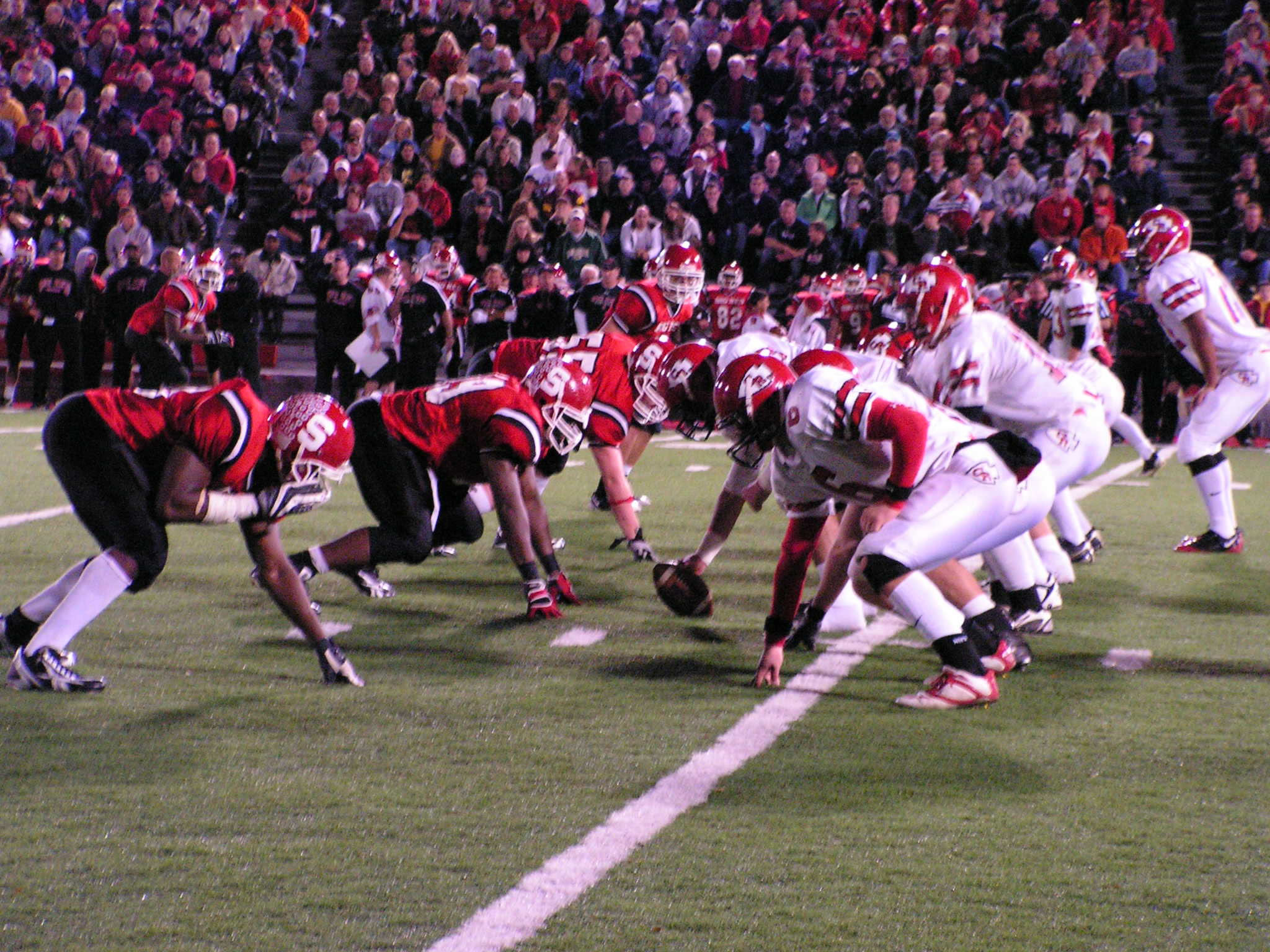 STEUBENVILLE - The Coshocton Redskins got a taste of the good, the bad and the ugly in their Ohio Division IV playoff game at Harding Stadium Friday night.
The good was that Coshocton managed to score more points against Big Red than any team had this season, the bad was that Big Red returned the favor and the ugly was the 61-29 final that sent the undefeated Big Red to the Region 13 semifinals for a rematch with Youngstown Cardinal Mooney and the now 9-2 Redskins packing.
"I wouldn't call it a perfect game, because no game is perfect, but we played a great game," Saccoccia said. "We played fast, we played physical and we played smart. It was a great, great game and a great win against a good football team. And it's a step in the right direction, but it's just a step."
It might not have been perfect, but it was pretty close.
Big Red scored on its first eight possessions of the game. Steubenville's ninth ended on its own 1. The Red then went on to force and recover a fumble to bring on their 10th, which yielded their ninth touchdown. Big Red's 11th possession ended at midfield just as the game did.
Junior quarterback Dwight Macon finished 12-of-12 for 292 yards and four scores, utilizing six different receivers. As a team, Big Red used a committee of 13 running backs of which junior Demetrius Brandon rose to the top with 127 yards and two touchdowns on just nine carries.
By most accounts, the game was over at the half, as Big Red had already amassed over 300 yards of offense and scored six times on just 22 plays.
It was easy at the end of the game to forget who scored first at the beginning - Coshocton.
"We fell behind again. We were behind, 7-0, and we have do better. We have to do better with the little things on offensive and the little things on defense," Saccoccia said. "We have keep improving if we want to beat teams like Mooney and Coldwater who I feel our the two best teams in the state in Ohio in Division IV."
Steubenville gave up a quick score to Coshocton with just 7:50 to be played in the first quarter.
The Redskins marched down the field and then converted a fourth-and-9 on the Big Red 33 with a halfback pass from A.J. Hession to Marcus Johnson. The point-after attempt by freshman kicker Brody Philabaum split the uprights.
"The reverse pass was excellent to get us on the scorebaord but we made too many mistakes after that," Coshocton coach Marty Arganbright said. "We had some penalties that started us off in first-and-15 a few times, That just killed us.
"At the same time, that says a lot a lot about their defense. It is aggressive and they really got after us."
Penalties weren't the biggest problem the Redskins experienced early in the game. Big Red wasted no time answering the intial score when Macon connected with Brandon Carroll on a 41-yard scoring strike and Brennan Stover supplied the PAT at 5:23 of the first quarter. It was on their ensuing possession that the Redskins committed what would be a fatal mistake - they coughed up the football in their own territory.
On second-and 1 at the Redskins 35, WVU-bound linebacker Branko Busick tore through the line and devoured Coshocton quarterback Seth Nolan way back on the 25.
Busick's bone-rattling hit on Nolan jarred the ball loose and Big Red's William Jackson recovered it. Two plays later, Steubenville crossed the goal line for a second time when Macon found David Goodwin for a 17-yard TD pass-play.
If the converted turnover wasn't problem enough for the Redskins, they went for and failed on a fourth-and-9 on their next possession.
The pass on the fake punt fell incomplete and the Red took over on the Coshocton 49. Brandon carried the ball the rest of way on one play, motoring 49-yards to paydirt and Stover's second successful PAT made it a 20-7 game.
The Red rolled from there.
Steubenville scored 21 points in the second quarter. Busick ran the ball in from 4 yards out, Jeryl Christian took it in on a 1-yard run (after a 43-yard pass from Macon to Sage Cutri) and Dan Bayne pulled down a 1-yard pass with just 26 ticks left on the first-half clock.
Big Red made two trips into the Redskins' endzone in the third. Bayne hauled in another TD pass - that one a quick hit up the middle that led to 52 yards - and Brandon ran in from 18 yards out.
Big Red capped off its scoring with a 1-yard run by Jordan McIntyre in the fourth.
"We had some big plays tonight and we hadn't really had that many this season," Saccoccia said. "That was nice to see and a bit shocking. Cohsocton is a good football team."
Big Red finished with 247 yards on the ground and Macon's near 300 in the air. As a compliment, backup QB Jordan Meyer completed both of his pass attempts to give Big Red a perfect 14-of-14 outing.
"(Macon) was very difficult to defend. We were concerned with his running ability, obviously. We also knew that he could throw it. We didn't stop either very well," Arganbright said.
"You have to stop one of the two and he was on the money. When we did put pressure on him, he would get away and buy his receivers more time. We just couldn't defend the long secondary."
Carroll led all receivers with 91 yards on three receptions. Bayne had three for 60. Cutri had two for 77. Anthony Pierro caught two for 41.
The Redskins would score a TD in the second, third and fourth. Nate Lonsinger caught a 4-yard scoring pass from Nolan, Joshnson ran in from the 3 and McKay exploded on a 50-yard run.
Big Red will now play Mooney, a 14-6 winner over Cuyahoga Valley Christian, Friday at a site to be determined. Steubenville has won 52 of its 53 games, having dropped a 35-20 to the Cardinals in last year's Region 13 championship game at Canton's Fawcett Stadium.
Regional Semi

-final, Big Red, 11-0, vs. Youngstown Cardinal Mooney Cardinals, 9-2, Friday, November 7th, 2008, at Canton's Fawcett Stadium.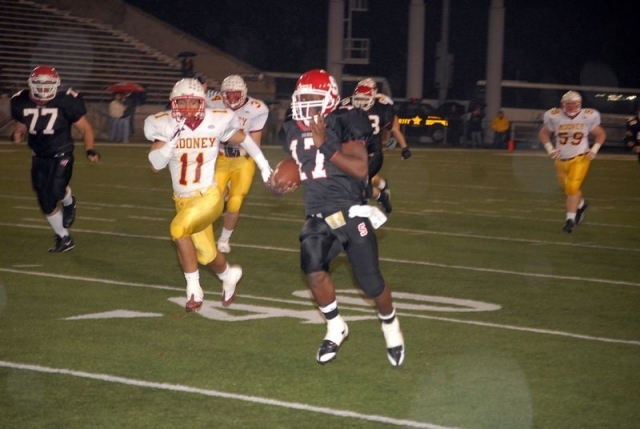 CANTON - At the 2007 Big Red football banquet, Steubenville coach Reno Saccoccia chose his words carefully as he spoke to those gathered inside the Steubenville High School Commons.
His team's season-ending loss to Youngstown Cardinal Mooney was still fresh in the minds and broken hearts of the Big Red nation, who saw their team win both the 2005 and 2006 Division III state title and fall 35-20 to the Cardinals in the 2008 Division IV, Region 13 final.
"We know who we have to play and who we have to beat to get back to where we want to be," Saccoccia told the crowd. "We know what we have to do and where we have to do it."
The 'who' was Mooney, the "what" was beat the Cardinals, and the "where" was the Division IV playoffs.
Fast forward one year and the table was set with the dressing only a Big Red-Mooney rematch could provide. It would be feast or famine. The winner would go on and loser would go home, as the two teams faced off at Canton's Fawcett Stadium for a second year in a row in the Region 13 playoffs.
But at the end of this four-course meal, it was the Cardinals who were still hungry, as Big Red was finally able to leave Mooney wanting with a 28-16 victory.
"We came in here with a great game plan," Saccoccia said after his team's win at Fawcett. "We had a great game plan on offense. We had a great game plan on defense and we had a great game plan on special teams. Our coaches believed our players could execute our game plan, one of the best I've ever been associated with, and our players did. It was just a great win for our program."
The win marked the fifth time the two had met - all came in the playoffs - and the first time Big Red was able to come out on top of the Cardinals.
Steubenville wasted little time building a lead against its old nemisis. After holding the much-bigger Cardinals to three and out on their first possession, Big Red drew first blood. WVU-bound senior fullback Branko Busick picked up 18 yards on two carries before junior QB Dwight Macon broke free on a 64-yard scoring run.
The drive spanned 81 yards, but took just three plays and 39 seconds to complete. Brennan Stover split the uprights and the Red led, 7-0.
Mooney took back three points six minutes after Big Red's opening score, when Ed Reese hit a 30-yard field goal.
Steubenville widened the four-point gap when Busick barreled into the end zone from a yard out with 8:26 remaining in the half. Busick carried Big Red on the drive. The big man tore up the middle for a 74-yard gain, taking the ball from Steubenville's 14 to Mooney's 12. A quarterback keeper took the Red to Cardinal's 1-yard line leaving Busick short yardage to finish it off, before Stover hit the PAT. That drive took six plays and just over two minutes to complete.
Steubenville next TD would follow a Mooney fumble. Big Red took over on the Youngstown 24 and Busick capped another march off with a 1-yard run. It took Big Red just a minute and half and four plays to score its third touchdown of the first half. That one came at the 6:15 mark of the second. Stover came through on the kick after.
Big Red's Brandon Carroll gave his team another shot at the end zone before the bands took the field, when he picked off an Alex Zordich pass, but Steubenville failed to capitialize.
"We didn't turn the ball over like we did last year,' Saccoccia said in reference to last year's game with Mooney where his team committed four turnovers in the first 20 minutes of play. "We had one fumble tonight but it didn't cost us anything. Our defense played outstanding and took advantage of everything (Mooney) gave us."
Mooney would score the only TD of the third. Zordich kept the football and ran it in from a yard out after a nine-play, 74-yard march by the Cardinals. The score came at the 2:51 mark of the third and took four minutes off the clock. Reese followed with the PAT and the Red's lead was cut to 21-10.
Mooney would threaten midway through the fourth quarter, but Macon put a stop to it by intercepting Zordich on the Mooney 38 with just four minutes left in the game.
"We made their quarterback throw a few passes like that and Dwight got a good break on the ball, but we had two players down there and they both did a great job," Saccocia said. "I don't like to talk about individuals. We won this game as a team. Our offense, our defense, our special teams all did great and I'm thrilled with the win.
"We didn't finish as well I would have liked tonight, but I'll take it. Our kids played with as much heart, determination and character tonight as any Big Red team before them."
After the pick, Macon finished what he started by running the ball in from the 19 for the Red's fourth and final touchdown with 2:29 left to be played. Stover finished a peferct 4-of-4 on his PAT kicks.
Mooney scored its final touchdown with no time left on the clock, but it was too little too late - the equivalent of slapping a band-aid on a severed artery.
"Big Red is a team that has been making plays all season," Mooney coach P.J. Fecko said."In the first half, they were able to make big plays and we didn't."
Steubenville finished with 277 yards on 42 carries, while holding the run-happy Cardinals to 139. Macon led the Red's running attack with 123 yards and his two TDs. Busick also went over 100 yards, finishing with 108.
Macon threw for an additional 78 yards. His longest pass was caught by Michael Goodwin for 21 yards. Zordich completed nine passes for 114 yards.
"Against a team like Mooney, you'll take three or four yards a play," Saccoccia said. "But we also had some big plays tonight."
Big Red now advances to play Perry, a winner over Tuslaw, in the Regional 13 finals to be played next week at a site yet to be determined.
Regional F

inal, Big Red, 12-0, vs. Perry Pirates, 11-1, Friday, November 14th, 2008, at Warren's Mollenkopf Stadium.
WARREN - Maybe it was the full moon, maybe it was pure desperation on Perry's part or maybe it was the Pirates way to prove they belonged on the field with Big Red.
Whatever it was, the Perry Pirates came to Warren's Mollenkopf Field and the Division IV Region 13 Championship Game with a few tricks up their sleeves, but in the end they couldn't pull a rabbit out of their hat, as Big Red rolled on with a 35-17 win, Friday night.
Steubenville opened up the night's scoring with just two plays. Jordan McIntyre pulled down a Dwight Macon pass on the first play from scrimmage to move the ball from the Big Red 20 to the Perry 33. Macon, who finished with 202 yards while going 14-of-20, next found Sage Cutri in the end zone for a 33-yard scoring strike at 11:19.
Not to be outdone, the Pirates opted for a bit of smoke and mirrors, when Vinny Hokavar took the ensuing kickoff and passed it to Mike Hanhauser who returned the ball to the Big Red 35. After a completed pass and a short run, Hokavar faked the handoff and took it in from 18 yards out.
Big Red's Brennan Stover and Perry's Braden Ferrell both split the uprights, and just like that, the game that wasn't suppose to be close was tied at 7.
"Nobody thought Perry stood a chance except for Perry," Big Red coach Reno Saccoccia said. "They came prepared and that's why you play the game."
The Pirates forced Steubenville to punt on its next possession, thanks to two straight sacks followed by a tackle for loss of Macon, but like Big Red, Perry couldn't do anything with its second offensive opportunity of the night. The Pirates, too, punted it away.
Steubenville, however, made the most of its third possession. The Red rolled out an 11-play, 63-yard scoring drive that showcased the talents and speed of senior receiver Michael Goodwin.
Goodwin pulled down a pass early in the drive, moving the pigskin from the Steubenville 39 to the Pirate 40. It looked as if Goodwin, would be taken down at midfield, but he broke through a host of tacklers and picked up 10 more yards before being wrestled to the turf.
A few players later, Macon found Goodwin in the corner of the end zone from 23 yards out, but an illegal-man-downfield call brought it back to the 28.
It didn't matter.
Goodwin and Macon gave a repeat performance with another 23-yard scoring connection that time on fourth-and-1. Stover's PAT kick put Big Red on top, 14-7 with 9:23 left in the first half.
"Our thinking coming into the game was that we were going to have to outscore them," Perry coach Matt Rosati said. "They were just so explosive on film and our guys did a phenomenal job of hanging in there. They had situations where it was third-and-9 or third-and-12 and they converted and converted.
"Those plays allowed their offense to stay on the field and it kept us off of the field. Those were big plays in the first half."
The Pirates, on the other hand, could get on Big Red's porch, but not through the Red's front door. Perry began their final drive of the first half at the Big Red 32, but could not take advantage of the short field. The Pirates got no closer than the 14.
Perry found itself in an identical situation late in the third quarter. Nine plays, including 31-yard run by Hokavar, brought Perry inside the Big Red 10. Isiah Willis made the touchdown-saving tackle at the Steubenville 8-yard line.
On first-and goal, Jeryl Christian brought down Hokavar for a 3-yard loss. On second down, big Branko Busick busted through the line for a sack and a loss of 3 more. On third down, Macon leaped to deflect a pass at the goal line. Perry was forced to settle for a field goal, a 31-yarder by Ferrell at the 2:12 mark. Big Red led, 14-10.
"Our defense played hard. Our entire team played hard," Saccoccia said. "Our defense came up with that big stop, and then Branko found a hole and came up with a great run. I think that's what turned the tide in this game."
Rosati agreed it was Busick's 82-yard TD run that came just 10 seconds after the field goal, which took his team out of contention. The one-man scoring drive brought Busick a 118-yard outing.
"It was 14-7 and we're on their 8. We had a chance to put a touchdown on the board, but just missed it," he said. "That 82-yard run really broke our back."
A 2-yard TD run by Macon with 7:59 remaining put the game out of reach, and an 11-yard scoring jaunt by Demetrius Brandon with 2:11 left put the final nail in the Pirates' coffin.
"I'd like to congratulate our seniors," Saccoccia said. "Our goal is always to get a home playoff game and then win the region. Now, we have to go reset our goals."
Perry came up with one last touchdown when Mitchell Hokavar found Vinny Hokavar on a 49-yard scoring pass.
The two Hokavars combined for 106 yards passing. On the ground, Vinny Hokavar led the Pirates with 49 yards on seven carries. Hanhauser, who had recorded more than 1,200 yards rushing and 40 TDs coming into the game, was held to 44 yards and no scores.
Perry finishes the season at 11-2. Prior to the Big Red game, the Pirates had lost only to Aurora.
Steubenville remains undefeated at 13-0, and will return to the state semifinals for the first time since winning its second of back-to-back Division III titles in 2006. Big Red will now play New Lexington, who defeated Martins Ferry, 21-14, in overtime in the Region 15 final.
The site of next Friday's game will be determined Sunday.
In Region 16, Kettering Archbishop Alter stunned undefeated Coldwater.
Coldwater, the Associated Press Poll champions, won the 2007 Division IV championship with a fourth-quarter rally and 28-27 over Cardinal Mooney. Kettering Alter will play Region 14 champion Genoa, a 40-21 winner over Ottawa Glandorf.
While the New Lexington win spoiled an all-OVAC state semifinal, Coldwater's loss leaves the door open for a rematch between Alter and Big Red. Steubenville defeated Alter, 35-34, to win the 2006 crown.
State Semi-finals, Big Red, 13-0, vs New Lexington Panthers, 12-1, Friday, November 21, 2008, at Massillon's Paul Brown Tiger Stadium.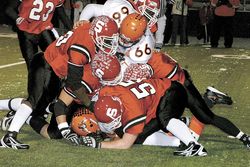 MASSILLON - If the New Lexington Panthers learned one thing in their game against Big Red the Panthers' second Ohio Valley Athletic Conference opponent in as many weeks it was that this isn't Martins Ferry football.
New Lexington, a 21-14 winner in overtime over the Purple Riders in last week's Region 15 final, found itself down, 16-0, in the opening quarter of the OHSAA Division IV state semifinals at Massillon's Paul Brown Tiger Stadium.
Steubenville scored two touchdowns and a safety in first frame and the Red rolled from there, celebrating a 30-6 decision, as Mother Nature supplied the confetti with a flurry of snowflakes which fell from sky and blanketed the field in the closing minutes of Friday's semifinal.
Steubenville, the 1984 Division II state champions and the 2005 and 2006 state-title winners, will now make its first Division IV state final appearance and its sixth overall at 3 p.m. Friday at Fawcett Stadium in Canton.
"We gave a championship effort tonight," Big Red coach Reno Saccoccia said. "We've given great efforts all season long and have improved each week. Now, we have to improve one more week. We've got one more game. It's not over yet. We're going to enjoy this win and get back to work Monday."
Big Red wasted little time taking control of Friday's state semifinal. At 4:09 of the first quarter, Steubenville's resident work horse and WVU recruit, Branko Busick, punched in the first TD from a yard out. Brennan Stover, as he would do on all of his PAT attempts, split the uprights after the 11-play, 55-yard scoring drive.
The Big Red defenders forced New Lexington to punt on its ensuing possession and things went from bad to downright terrible for the Panthers when Big Red junior corner Isiah Willis got a hand on the ball. The blocked punt was recovered by New Lexington in its own end zone for a Steubenville safety at the 3:50 mark.
Big Red wasn't done with its first-quarter output just yet. With 1:35 left in the frame, Michael Goodwin hauled down a 29-yard scoring pass from junior quarterback Dwight Macon, who continued to put up big numbers with a 190 total-yard performance. The scoring strike completed a six-play, 56 yard march to extend its lead.
"Being up 16-0 means nothing, and to be honest I thought it was 16-6," the ever-reserved Saccoccia said. "Getting a lead is nice, but that's all it is."
After jumping ahead, Steubenville suffered a setback when it coughed up the football on its own 25. New Lexington's John Sherwood fell on the loose football. Big Red would commit another turnover before the bands took the field Drew Brown recovered that fumble late in the second quarter but the second giveaway didn't lead to a TD.
The first one, however, did when Panther QB Clint Cannon ran in from 3 yards out two seconds into the second quarter. Cannon, who scored all three of the TDs against Martins Ferry and finished with 121 yards rushing against the Red, set up the short run with a long one. He took the ball from the 23 to the 3 with one carry.
"(New Lexington's) quarterback is one heck of a football player," Saccoccia commented. " He's a real physical player and did a great job tonight."
The New Lexington score proved to be nothing more than a temporary distraction. Two minutes after allowing Cannon to cross the goal line, Macon scrambled 12 yards into the end zone for Big Red's third TD. The touchdown run was made possible by a big passing play from Macon to Jordan McIntyre.
McIntyre caught the ball near midfield, but showed some speed, gaining nearly 40 yards after the catch. The play covered 49 yards, while the TD drive covered 76 on eight plays.
Big Red led, 23-6, at the half. Steubenville outmanned the Panthers in the first two quarters, putting up 264 yards of total offense to New Lexington's 80 though the Panthers held the football for one minute longer than the Red.
In the third quarter, New Lexington turned to Cannon to move the football, and it worked, at least for a little while. Cannon kept the ball on six-straight plays and moved the pigskin into Steubenville's red zone. However, crossing the Big Red 10 proved to be the easy part. Steubenville's defense stepped up and New Lexington's offense stalled. Steubenville took over on downs on its own 7.
A balanced mix of runs and passes took Big Red from its end of field to inside the 50 on its second possession of the second half, but Steubenville would punt the ball away and the third quarter would end scoreless.
Playing against the clock and Big Red's speedy defense in the final frame, the Panthers came out throwing. The strategy didn't pay off for New Lexington. Resorting back to its run-Cannon-up-the-middle game plan didn't either, and the Panthers failed to score in the fourth.
"We didn't have too many opportunities tonight, especially in the first half," New Lexington coach Bill Nutt said. "After that first turnover, we did what had worked for us all season, we ran right at them and ran up the middle, but we needed to sustain a drive at some point and we didn't. We needed to catch our breath and give our defense a break, but we couldn't keep their offense off the field."
Steubenville would tack on seven more points before the final whistle after a steady dose of junior tailback and 1,000-yard rusher, Demetrius Brandon, took the Red into Panther territory. Brandon, who finished with a career-high 177 yards, finished what he started by following offensive lineman Ryan Dugan into the Panther end zone from 11 yards out with 1:47 remaining in the game.
Steubenville finished with 434 yards of total offense with 168 in the air and 266 on the ground. The Red recorded 25 first downs and lost two of three fumbles.
The Panthers racked up 174 yards of offense with just 47 passing. New Lexington would achieve 10 first downs and commit no fumbles.
"New Lexington is a good football team," Saccoccia said. "We just had a better night than they did."
Steubenville's state final opponent will be Kettering Archbishop Alter, which pulled away from Genoa Area for a 42-34 win in the other Division IV semifinal.
The championship matchup mirrors the 2006 Division III state final in which the Red earned a 34-33 final over Alter, thanks to a blocked PAT.
State Championship, Big Red, 14-0, vs Kettering Alter Knights, 14-0, Friday, November 28th, 2008, at Canton's Fawcett Stadium.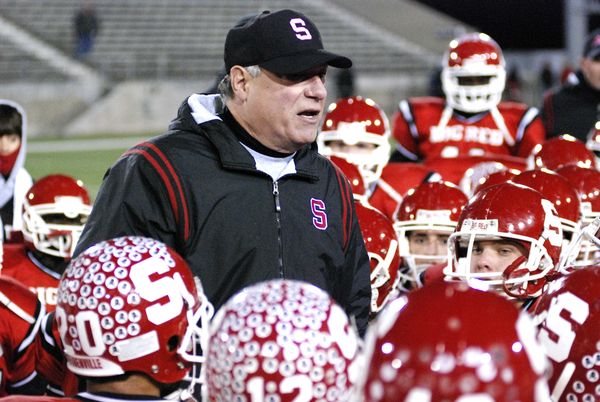 CANTON - To call Big Red's 2008 season - a season which included the 700th win in the school's history, a move into third place on Ohio's all-time winning list, 52-straight home wins and the team's sixth-consecutive unfastened season - a Cinderella story wouldn't be fair.
Big Red ended up exactly where it was suppose to - the Division IV championship game at Canton's Fawcett Stadium. It just fell short in Friday's afternoon game.
In its bid for its third state championship in four years and fourth overall, Steubenville dropped a 21-6 decision to Kettering Archbishop Alter in the final, proving that the previously undefeated Big Red were mere mortals after all.
"I felt good coming into this game and didn't think anything bad could happen to this team," Big Red senior receiver and defensive back Patrick Gilbert said after his team's state final heartbreaker.
It was sentiment shared by his teammates.
"Every time we got down this season, we got right back up. We did it all season and I really thought we'd do it again, only we couldn't. It was so hard to get back up against this team," junior quarterback Dwight Macon said. "Every time we picked ourselves up, we got knocked right back down."
Senior two-way lineman Ryan Dugan added "We've been down before, but today when we got down, everything went downhill."
Big Red's deficit originated at the 4:54 mark of the first quarter when Alter quarterback Austin Boucher hit Chris Borland with an 8-yard scoring pass. Danny Jasper, as he would after all three of the Knights' TDs, supplied the point after for a 7-0 Alter lead.
It was the Knights' second possession of the game and the first in which they showed an ability to move the football. The game began with the Red holding Alter to three and out. Big Red's first drive, on the other hand, was filled with promise.
Macon connected with tight end Dan Bayne for a 26-yard completion on Steubenville's first play from scrimmage, but instead of being one of many big plays, it turned out to be one of Big Red's biggest gains of the game.
Steubenville, which came into the game averaging 407 yards of offense, was limited to 283 against the Knights, including a surprisingly low 88 yards rushing, while Alter chewed up 303 on the ground.
Macon hit his average passing numbers with 195 yards, but Big Red never seemed to get the big play when it needed it most.
"We didn't convert on third downs and they did. They were able get to first downs," Big Red coach Reno Saccoccia said. "That was the difference in this game. We couldn't defend the pitch and we didn't do well picking up first downs on third down. That was the key. We didn't get first downs and we didn't stop them on third down."
Big Red was successful on just three of its nine third down conversion attempts.
Steubenville also failed to convert on two fourth-down situations, while the Knights converted on third down nine of 13 times.
Steubenville struggled to shut down Alter's option and the Knights tormented Steubenville from the outside. Boucher would finish with 111 yards rushing, while Chris Borland, receiving most of the pitches, led all ushers with 130 yards.
Meanwhile, Macon, typically a huge ground threat himself, mustered just 68 yards, but it was enough to lead his team in rushing.
"We were able to do what we hoped that we could do and that was contain their quarterback and not let him kill us," Alter coach Ed Domsitz said. "We knew he was going to throw and complete some passes. We knew that he was going to break away and have some nice runs. We had to hope to that we could keep him out of the end zone.
"Also we had to be able to move the football. We weren't doing that real well early. Once we adjusted a little bit, we were able to sustain some drives in the second half."
The Knights were successful in keeping Macon out of the end zone for the most part. He would play a part in Big Red's sole TD of the night when he connected with Trey Wiggins on a 33-yard scoring pass with 9:43 remaining in the game, but it was just too little too late.
By the time Steubenville scored its first and an only touchdown, the Knights had scored all three of theirs.
The first half ended with Alter leading, 7-0, but Big Red failed to match it, despite receiving the ball at the start of the second half.
"As poorly as we played in the first half, we were only down, 7-0. I thought being in that situation would prepare for a better second half," Saccoccia said. "But they had a nice first drive and we didn't. Again, the game came down to two things. We didn't tackle the pitch and we didn't do a good job of maintaining the ball on offense. That's the game in a nut shell."
After decent gains and a first down on its opening possession of the third quarter, Big Red was forced to punt the ball.
It was on the ensuing Alter possession that the Knights finally put together their second scoring drive. The TD came with five minutes remaining in the third stanza when Boucher carried the pigskin in from the 3-yard line.
Alter added another touchdown less than two minutes into the fourth. Borland carried the load that time running it in from 21 yards out.
The win gave the Knights their first state title.
Alter had advanced to the state semifinals four times and lost in the 2006 Division III state final to Big Red.
The Knights end the season undefeated on the field, but with a 14-2 mark after forfeiting its first two games of the season due to ineligibility infraction.
Steubenville, which was crowned champion in 1984, 2005 and 2006, as well as state runner-ups in 1987 and 1988, wraps up its campaign at 14-1.
"Sometimes you can give a championship effort and still come up short," Saccoccia said. "It was a great season. Now, we'll find out more about ourselves on how we handle the adversity, the disappointment of losing."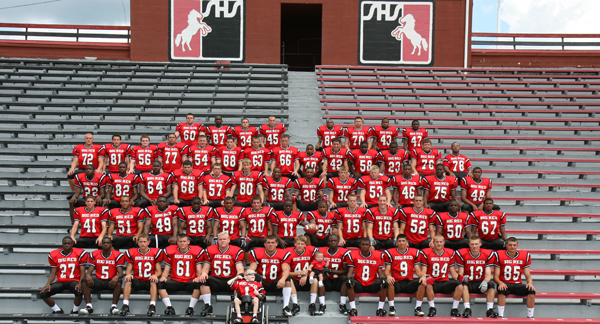 2008~
5- Patrick Gilbert, DB/WR
8- Isiah Willis, DB/WR
9- Anthony Pierro, DB/WR
10- Brandon Carroll, DB/WR
11- William "Boo" Jackson, DB/TB
12- Jordan Meyer, DB/QB
13- Caleb Westlake, DB/WR
15- David Anderson, DB/WR/QB
17- Dwight Macon, DB/QB
18- Branko Busick, LB/TB
20- Trey Wiggins, DB/WR
21- Mike Goodwin, DB/WR
22- Jessie Birden, LB/TB
23- Shaquille Petteway, LB/FB
24- Jordan McIntyre, LB/WR
27- Jonathan Littlejohn, CB/WR
28- Demetrius Brandon, DB/TB
30- Zach Howrath, LB/FB
31- Shamus Nixon, DB/WR
34- Brian Difillippo, S/WR
36- Alvin Taylor, LB/RB
40- Josh Thompson, DB/WR
41- Angelo Iachini, DB/WR
42- Blake Carroll, LB/TE
44- Dan Bayne, LB/TE
45- Joey Pizzino, LB/FB
46- Dorand Watts, DB/WR
48- Roderick Perdue, DE/TE
49- Jeryl Christian, DT/FB
50- Devon Campbell, DE/G
51- Jordan Banks, DE/G
52- Jamey DeVaul, DE/C
53- Sailor Kittle, DT/G
54- Jake Linn, DT/T
55- Ryan Dugan, DT/G
56- Wesley Prichard, NG/T
57- Justin Baldwin, DE/G
58- Delshawn Woods, DE/G
60- Terry Vacheresse, DT/G
61- Dylan Clayton, DE/G
63- Tyler McGee, LB/C
64- Willie Pruitt, NG/T
67- John Elder, DE/G
68- Darrin Heatherington, DT/G
70- Michael Boney, DT/T
72- Joven Pillutti, DE/C
75- Trey Terry, DT/T
76- Chad Fuller, NG/T
77- Mason Campbell, DT/T
80- Brennan Stover, K
81- Anthony Venci, K
82- Brandon Prentice, DB/WR
83- William Grimes, DB/WR
84- Sage Cutri, LB/TE
85- Dominic Garay, DE/TE
87- Derrick Edwards, DB/WR
88- Ethan Kelly, CB/WR